The Association of New Architects (ASNOVA) is the first organization of innovative architects in post-revolutionary Russia, founded in 1923 in Moscow. The aim of the Association was to develop a new formal-artistic language of architecture, new methods of architectural education. The Association was closely connected with the Faculty of Architecture of Vhutemas, its members (N.V. Dokuchaev, V.F. Krinsky and others) organized a special department there, where teaching was conducted according to the new methodology. In addition, members of ASNOVA appeared in the press on various issues of architecture, and also prepared the publication "Architecture of Vhutemas" (M., 1927). Continue reading →
Abramtsevsky (Mamontovsky) art circle – the so-called Representatives of the creative intelligentsia, mainly Moscow, united around the famous businessman and philanthropist S.I. Mamontov. Meetings and meetings of artists and art lovers took place in Mamontov's house on Spassko-Sadovaya Street, and in the summer, in the Abramtsevo estate near Moscow near Sergiev Posad. Mamontov financially helped artists, supported them with many creative endeavors. The circle existed in 1878-93, while it was never an official society or an art group. Artists often came to Abramtsevo for the whole summer with their families. Here they could work and communicate. In the Abramtsevo circle, the study of Russian history and culture was combined with the desire to revive the traditions of folk art. The estate organized workshops for the revival of ancient art crafts (wood carving, majolica, sewing). Continue reading →
However, in 1928, after a series of publications in the journal Revolution and Culture, edited by N. I. Bukharin, supported by the section of literature and art of the Communist Academy, a new aggravation of the ideological struggle in art began. Realistic traditions and easel art were opposed by new types of creativity (photography, design, cinema), and models of Western modernism were offered as a standard. This had consequences for Vkhutein (as the Academy of Arts was called in 1923). The directors were accused of restoring academism. The dissatisfaction of some teachers and students of the institute was supported by the art groups "Proletariat", "Circle", a group of P. N. Filonov, who opposed, among other things, any control in the development of culture in general and the art school in particular. Continue reading →
And how to explain such a change of state to "left" art, whose representatives continued to occupy key posts in all the organs of this state, which were in charge of art issues in the center and in the localities?
Among the supporters of the "left" views, the artists D.P. Sternberg, A.D. Drevin, V.E. Tatlin, V.V. Kandinsky, K.S. Malevich, O.V. Rozanova, M.V. Matyushin, stood out N.I. Altman and others. They formed a rather strong group, which initially determined the artistic policy of the Department of Fine Arts created under the People's Commissariat for Education, as well as the Moscow and Petrograd Soviets. Continue reading →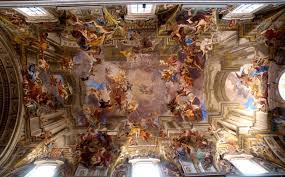 In the narrow, literal sense, the Leningrad school usually means the Leningrad Institute of Painting, Sculpture and Architecture named after I.E. Repin (LIZHSA) from 1932 until the early 1990s, its traditions, teachers, pupils and their artistic heritage.
In a broader sense, the concept of "Leningrad school", in addition to the LIJSA named after I. E. Repin, includes a group of institutions closely associated with the institute of higher and secondary educational institutions, as well as the Leningrad Union of Artists from its inception in 1932 until the beginning of the 90s. x years. Continue reading →