Classicism – an artistic style in Western European art of the XVII – beginning. XIX century and in the Russian XVIII – early. XIX, referring to the ancient heritage as an ideal for imitation. It manifested itself in architecture, sculpture, painting, arts and crafts. Classic artists considered antiquity the highest achievement and made it their standard in art, which they sought to imitate. Over time, degenerated into academicism.
Romanticism Romanticism is a trend in European and Russian art of the 1820-1830s that replaced classicism. Romantics highlighted individuality, contrasting the idealistic beauty of the classicists with "imperfect" reality. Artists were attracted by bright, rare, extraordinary phenomena, as well as images of a fantastic nature. In the art of romanticism, a sharp role is played by keen individual perception and experience. Continue reading →
Nikolay Gugnin. From the history of the Vitebsk art school.
In the late 1910s, the paths of many famous artists of the 20th century converged in the provincial city of Vitebsk. They were very different in their views on art, in belonging to one or another artistic movement, and the circumstances that brought them to Vitebsk were different. But all of them were united by the idea of ​​creating the Vitebsk professional art school, now celebrating its seventy-five years. And this small (1918-1923 gg.) Period of time in its history became its first chapter, dramatic and vibrant. Continue reading →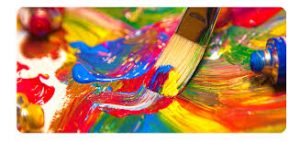 The number of styles and directions is huge, if not endless. The key feature by which works can be grouped by style is the unified principles of artistic thinking. The change of some methods of artistic thinking by others (alternation of types of compositions, methods of spatial constructions, peculiarities of color) is not accidental. Historically changeable is our perception of art.
Building a system of styles in a hierarchical order, we will adhere to the Eurocentric tradition. The largest in the history of art is the concept of the era. Each era is characterized by a certain "picture of the world", which consists of philosophical, religious, political ideas, scientific ideas, psychological characteristics of worldview, ethical and moral norms, aesthetic criteria of life, which distinguish one era from another. Continue reading →
Classification of works of art by type, material, technique and genre.
Works of fine art are divided into the following main types: painting, graphics, sculpture, decorative and applied art. Recently, a fifth can already be added to the traditional four types of fine art – technical arts, which include art photography and computer graphics. Painting, in turn, is divided into easel and monumental. Graphics for drawing, watercolors and printed graphics. The sculpture is round (monumental, easel, small forms) and relief (bas-relief – when less than half the volume emerges from the plane and the relief is more than half). Even more varieties in DPI: ceramics, hot enamel, batik, tapestry, forging, painting on wood, metal, etc. Continue reading →
An engraving (from French estampe) is a generalized name for works of printed graphics, which is an engraving or any other print on paper from a printing form.
There are four types of prints: high (convex) printing, flat printing, intaglio printing and screen printing. Convex printing includes woodcut, linocut and cardboard engraving. For flat printing – lithography with all its varieties and monotype. Intaglio printing: etching, engraving, mezzo-tinto, dotted line, dry needle, aquatint, reserve, lavis, soft varnish, pencil style. Screen printing – silk screen printing.
Let us consider in more detail the main print techniques in chronological order. Continue reading →